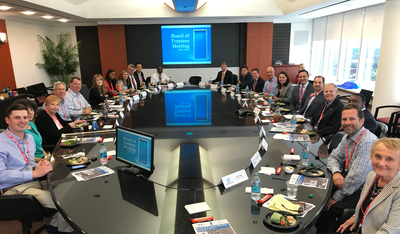 2018-19 Officers of the Board
Bart Tinsley, Chairperson
Margaret Amsden, Treasurer/Secretary
Bernie Ronnisch, Chair-Elect

Trustees:
Jack Aronson, Kathy Berryman, Reid Beyerlein, Mike Blackburn, Daren Bossenberger, Matt Buese, Christie Coplen, Dan Dalton, Mike Davidson,
Jay Dunstan, Steve Gustafson, D.D.S., Mike Lope, Glenn McIntosh, Michael Mayette, Randy Mickhail, Barbara Pilarski, Timothy J. Ryan, Steve Rusin,
Levi Stubbs III, Patrick VanLehn, Tom Violante, Jr. & Sam Yamin.

Community Impact Board:
Mike Birkett, Scott Galloway, Steve Harmon, Judge Derek Meinecke, Rev. John Miller, Joe Ross & Keisha Speech.

Lifetime Trustees:
Larry Burr, Gayle Chinn, Richard Christie, Ronald Cunningham, Judy Fresard, David H. Lawrence, Edward LeFevre, Vivian Lewis, Emmett W. Mills, Jr., Mary Jo Neville, Nancy Noonan, Judge David H. Paruch, David Richards, Judge Daniel Sawicki, Robert Stocker, John Sullivan,
Jeanne Towar, Tom Violante, Sr., Dr. James Westbury & Peter Webster.